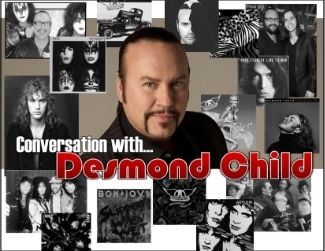 Legendary songwriter/producer Desmond Child welcomes Chris and Aaron into his studio for an in-depth discussion about his life in music. In this hour-plus talk, Desmond looks back on his early days as a performer in the NY-based disco group Desmond Child and Rouge. This band was a favorite of KISS singer/guitarist Paul Stanley, who used to frequent the band's live shows. A friendship was struck as well as gold when the two collaborated on 'I Was Made for Lovin' You', a Top 10 smash that spanned the globe. Desmond's career in writing/producing took off from there.
In this conversation, Desmond shares his memories of working with some hard rock and metal legends. From his time working with Stanley and KISS on albums such as Animalize, Asylum, Crazy Nights, and Hot in the Shade, Desmond shares his memories of Paul Stanley's songwriting process as well as a strained relationship with Gene Simmons over some words said in an interview during the buildup to 1992's 'Revenge' album.
Desmond Child helped propel Bon Jovi to superstardom due to his collaboration with band on songs such as 'Livin' on a Prayer' and 'You Give Love a Bad Name' from 1986's Slippery When Wet album. In this discussion, Desmond sets the scene of a trip to a suburban New Jersey home and the process in which two of the biggest anthems in rock history were born.
Also notable in the hard rock world is Desmond Child's work with Boston rockers Aerosmith. Once again, his contributions would make a massive difference in a band's career; this time in the resurrection of a band that had been long-thought finished. Desmond's contributions in the form of, most notably, '(Dude) Looks Like a Lady' and 'Angel' would help 1987's Permanent Vacation album go on to sell over 5 million copies in the US alone. His collaboration with Aerosmith has lasted ever since with the writing partnership being evident on subsequent albums such as Pump, Get a Grip, Nine Lives, and Music from Another Dimension.
Listen to the interview HERE
http://www.decibelgeek.com/wordpress/co ... ild-ep195/