Mr Bruce Kulick has graciously taken the time to answer a few questions about Vinnie, his time in Kiss and other things.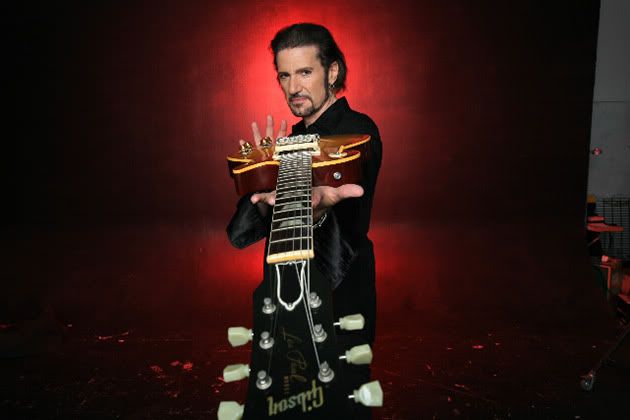 Could you tell us how Gene, Paul and Vinnie came to work together again? The usual story is you guys were at the same studio, and Vinnie happened to be in there. But how did it come to be that Vinnie, and G&P began to collaborate on music again? I can see the guys saying "Hello" to each other, but how did he actually come to be in the work process on Revenge?
I actually have no idea. I thought Vinnie reached out to Paul and Gene. One time I was going up to Gene's house and Vinnie was there.
I apologize if this is a controversial question. But why did Gene, and Paul work with Vinnie during Revenge when they felt he was risk even back in the 80's? The reason I ask is it always seemed clear by the time you joined, they had long moved on.
Fact is Vnnie is a damn good songwriter, period.
How did Eric Carr feel about Vinnie in the later days of Kiss before he passed? God Bless him too, he was a true Rock God.
He told some funny stories about Vinnie... but I can't really remember much.
Did you think that G&P were up to something (getting rid of you) when working with Vinnie for Revenge since it was rumoured that Eric was on the way out?
Absolutely not.
Do you think Vinnie thought he was going to get the Kiss gig again and when G&P told him otherwise ,he stopped working on the record?
Absolutely not.
Did you and Vinnie trade licks/jam during the sessions? Did you visit his recording sessions? Play his guitars? Exchange phone numbers? Did you hang out, go to dinner, ETC?
Not at all. Never saw him in the studio. I did not hang with Vinnie. I was polite if I saw him, but we were not friends.
Any stories with details (other than Vinnie selling guitars) that can help people have a better understanding of Vinnie?
Too confusing. I of course would hear stuff from Gene and Paul... but that is for them to talk about.
If you judge the perfect guitarist on the basis of skill, musical personality, being a team player, professionalism and consistency, then Bruce ranks as the greatest guitarist Kiss has had over the years. How about asking him if he'd agree with that?!!

!
Well.. good question and I do agree. But most important is, I have always done my job in those KISS years.
How did you come to be playing the Charvels and Jacksons in your early time with Kiss. Were you hooked up by Gene and Paul? Did you meet Grover?
I heard about Grover and I bought one in from the window of Sam Ash in NYC. Gold with three pickups. Then I got a Silver one, and a used Blue one. They were popular then.
What made you switch from Charvel/Jackson guitars to E.S.P.? (You answered this at the Clinic for me, but I am wondering, as you bought off the rack Charvels, you weren't as happy with the necks as you could have been, so surely Charvel would have made you the neck any way you wanted it, much like ESP ended up doing).
I did have a few Jackson's custom made, but the others were totally stock. I did prefer the ESP necks.
Knowing how Vinnie was treated contractually by G&P, can you at least understand Vinnie's apprehension to sign everything away?
No comment. I think he has poor judgment. Don't believe him.
Did G&P ever cut your salary like they did to Vinnie? I understand they made other cuts(keyboardist,pyro,etc.) when you were in Kiss. Did these cuts ever affect you?
They did not effect me, but sadly the band was suffering at a point, and that "cut" lasted for a short time. It made no difference in my life style.
How many free guitars do you get per year from an E.S.P. endorsement?
I don't have that kind of relationship with them. When they have a cool model, they hook me up. Sometimes I realize I don't dig it that much, and I give it back.
Do you still have a lot of your classic guitars? (purple Asylum Kulick graphic, the Charvels, your Frankenstein Les Paul, the banana E.S.P.,ETC.)
A few of those are still in my collection. Banana, LP, Black Explorer, Revenge ESP White Strat...
Did you custom order the Jackson Soloist from the Uh All Night video or did you pick it up in a store type deal?
I did order that one, and I gave them the idea for the graphics. COOL guitar.
Did G&P ever ask you to be ready( to wear make up or not) in case Ace fucks up?
Never had that discussion.
How did you end up playing on the Animalize album?
Paul needed some help when Mark was having a hand problem. It was fun to work with Paul.
Mark St John has said he found it difficult working with Gene & Paul, ie, they worked in separate studios and such, did you find the same for Asylum? If so, did the way they worked change along the way?
Sometimes they did that. It was different all the time. I knew exactly how to work with both of them individually or separately.
Did you do any playing on Creatures of The Night?
NO
Did Dick Wagner play the solo on Every Time I Look At You?
YES. And tell me you can hear the difference from Unplugged! Dick was in the studio and I was on holiday. His solo is magic and I loved learning it. To me it was at first difficult but KISS, like the BEATLES, did things that are for the song, not a members ego. Like McCartney playing guitar on Taxman etc... Drive My Car. Or like Dick Wagner playing on Aerosmith's Train Kept A Rolling.
Thank you for your time Bruce!

Catch Bruce on the web, Facebook and Twitter at these links:
www.kulick.net
www.facebook.com/brucekulick
www.facebook.com/officialbrucekulick
http://twitter.com/brucekulick