The very talented Robert Fleischman agreed to answer some questions for us in our never ending search for answers.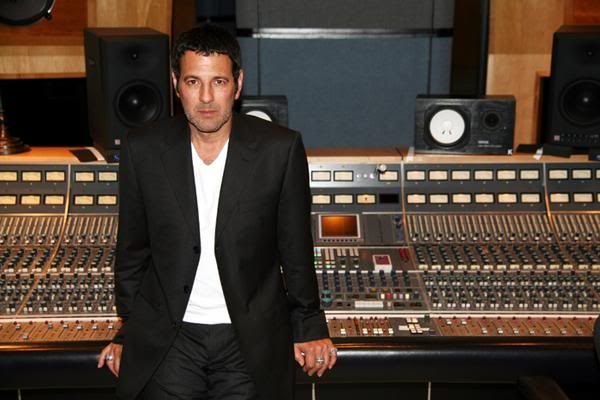 1. Where did you first meet Vinnie Cusano?
HE CAME TO MY HOUSE.
2. What was he doing at the time?
TRYING TO PUT A BAND TOGETHER.
3. When you and Vinnie first got together, prior to his Kiss days, what was the material and his playing style like?
THE SAME AS WHAT WAS ON THE VVI.
4. Similar to what it was like on the first Invasion album, or less over the top?
IT'S ALWAYS OVER THE TOP...WITH VINNIE.
5. What did Vinnie tell you about his time with Kiss and about his departure?
NO. FUNNY I NEVER ASKED.
6. What can you tell us about the following songs which might have been recorded that we haven't heard: Cockteaser - Ride The Serpent - Brainsaw.
DON'T KNOW THE SONGS...DON'T RECALL.
7. What extra songs were recorded for Guitars From Hell/Guitarmaggedon that were not going to be used at that time?
DON'T KNOW ANYTHING ABOUT THIS STUFF. EVERYONE THINKS I DO BUT I DO NOT KNOW !!!! YES!!!
8. Did you do all of the Guitarmageddon vocals in LA?
I NEVER HEARD THE CD SO I CAN'T TELL YOU IF I AM ON IT.
9. You've stated that the bootlegs of Guitarmageddon/Guitars From Hell are rough drafts. Are there final versinos of these songs? Do you have copies?
MAYBE SOME WHERE.???
10. After the first album, how many recording sessions did you do with Vinnie for the Guitarmageddon/Guitars From Hell projects?
A FEW WEEKS...ON ONE OF THEM I DON'T KNOW WHAT CD I AM ON.
11. How was working with Vinnie different the second time, than the first time? Which experience was more fun?
ALL WERE FUN AND WORK...
12. What is your favourite song on the 1st Invasion album?
NO SUBSTITUTE.
13. Have you heard All Systems Go, and what do you think of it?
NO..&..NO.



14. Would you have approached the songs on All Systems Go differently

?
I NEVER HEARD THE CD.
15. Vinnie said at first Mark was the singer they wanted but he didn't put his address on the tape. What do you make of that?
STUPID IS..... AS STUPID DOES
16. Did Vinnie use other guitars to record Guitars from hell apart from his Jackson's (eg Pear, Washburn's)?
HE USED THE JACKSON ALL THE TIME.
17. Were you actually involved in the Euphoria EP, or did Vinnie just use your vocals from previous recording sessions?
DON'T KNOW NEVER HEARD IT.
18. What kind of mics did you use to record your vocals on the first album, and on Euphoria?
I USED A ...C-12...
19. Would it have been easy to sing on the top of your voice live like you did in the studio with Vinnie?
YES.
20. Are you still capable of hitting all the notes in your vocal range?
YES AND NO !!... LIFE YOU KNOW!!
21. Did they ask you to wear a wig for the photo shoot so the band would look more cohesive and outrageous?
YES...SO THEY PUFF UP MY HAIR UP...LOOKED SO STUPID...I LOOK LIKE I AM WITH THREE INFLATABLE DRAG QUEENS.
22. Did Vinnie try to speak with you about the contract or did he stay out of it and let the SUITS do it?
HE STAYED OUT OF IT...THE SUITS TOLD ME IF I DIDN'T PUT MY X ON THE CON....TRACT THEY WOULD TAKE ME OFF THE RECORD.. SO I SAID,.. THEN YOU DO WHAT YOU HAVE TO DO ....THEY FLIPPED!!
23. Did you ever have any verbal or physical altercations with Vinnie?
NO!
24. Did he stay in touch with you during the tours for both albums or did he call you out of the blue to record again?
OUT OF THE BLUE.
25. When was the last time you spoke to Vinnie?
MANY YEARS OVER TEN

and would you record with Vinnie again if asked to?
NO.
26. At the time when the Boyz R Gonna Rock video came out, (in the most positive way possible) how did you feel about Mark "appearing" to be the singer who sang your vocals?
WHAT SOMEONE WILL DO FOR 15 SECONDS OF FAME...WHAT A WHORE...YOU SHOULD ASK HIM...HOW HE FEELS...SOME TALENT.
27. Were your vocals run straight into the board, and then to tape?
YES.
Were the vocals cut on the same tape machine as Vinnie's guitar parts?
YES.
28. Can you remember how many tape machines were used in total for the first album?
WE HAD TWO STUDER 24 TRACK MACHINES SYNCHRONIZED TOGETHER.
29. Did you guys record on the Trident console at Cherokee? YES I THINK SO . And was this the same console used in Nashville?
DON'T KNOW ABOUT THAT.
30. Was Dana a member when you were practicing with drummer H. Gardner?
NO....GARDNER..NICE GUY.
31. Your reaction to Myron Grombacher legally going after Vinnie and supposedly having VVI's gear confiscated.
DIDN'T KNOW THAT..BUT I LIKE MYRON HE IS A NICE GUY.
32. Did you ever call Vinnie on his bullshit?
SOME TIMES.
33. Any pleasure in Vinnie's downfall, being how you were treated? (I.e. He got what was coming to him.)
NO..NOT FOR ANY ONE. EVERYONE HAS THERE OWN MOVIE... YOU TRY TO DO YOUR BEST.
34. Your opinion of George Sewitt.
HE IS LIKE THE LITTLE DOG WHO LIKE'S TO HUMP FURNITURE.
35. Have you discussed (bitched about) Vinnie with his former band members (members of Kiss, VVI , etc.)?
THE BIG (G)...... HAS CALLED ME..... BIG (G)......... YOU KNOW WHAT HE'S DONE NOW!!!
36. What do you like most about Vinnie's playing style?
HE'S FUCKIN GREAT!!!!!
37. Have you kept in touch with Bobby Rock?
YES, HE'S THE BEST!! I WISH HE WERE IN A GREAT BAND SO PEOPLE COULD SEE HOW GOOD HE IS!.... GO GET THEM .....BOB
Robert has a new band called The Sky, check it out on his You Tube chanel: http://www.youtube.com/user/robertfleischman#p/a